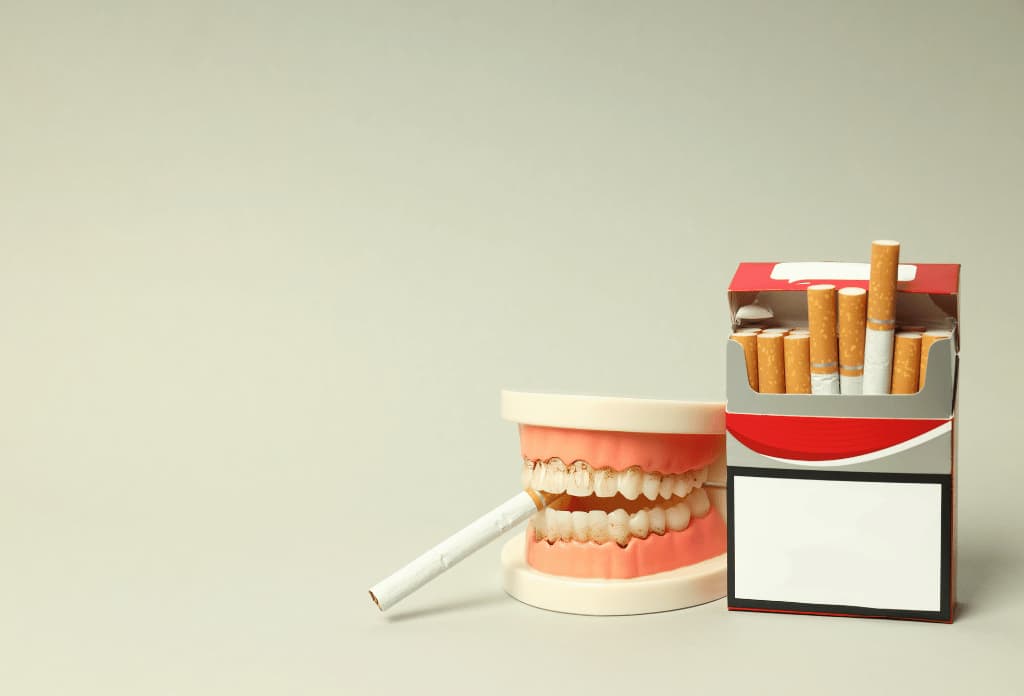 27 Sep 2023
Introduction
Smoking is a well-known health hazard, linked to various serious illnesses such as lung cancer and heart disease. However, its detrimental effects are not limited to the lungs and heart; smoking also wreaks havoc on your oral health. In this blog post, we will explore how smoking impacts your mouth, teeth, and gums, and we'll discuss effective strategies to quit this harmful habit.
The Impact of Smoking on Oral Health
Stained Teeth: Smoking is a leading cause of tooth discoloration. The tar and nicotine in tobacco can result in unsightly yellow or brown stains on your teeth, which can be challenging to remove even with professional teeth whitening.
Bad Breath: Smoking leaves a distinct and unpleasant odor in your mouth. It can lead to chronic bad breath, which can be socially embarrassing.
Increased Risk of Gum Disease: Smoking weakens your immune system and reduces blood flow to the gums. As a result, smokers are at a significantly higher risk of developing gum disease, including periodontitis. This can lead to tooth loss and other serious oral health issues.
Tooth Decay: Smoking can cause a decrease in saliva production, which is essential for neutralizing acids and protecting teeth from decay. This, coupled with poor oral hygiene practices often associated with smoking, increases the risk of cavities.
Oral Cancer: Perhaps the most alarming consequence of smoking is the increased risk of oral cancer. Smokers are at a much higher risk of developing cancer of the mouth, lips, tongue, and throat. Oral cancer can be life-threatening and may require extensive treatment.
Delayed Healing: Smokers may experience slower healing after dental procedures, extractions, or oral surgeries. This is because smoking restricts blood flow, which is essential for the healing process.
Tooth Loss: The combination of gum disease, tooth decay, and delayed healing can ultimately lead to tooth loss in smokers. Tooth loss can have a profound impact on one's oral health and quality of life.
Quitting Smoking: Strategies for Success
Quitting smoking is one of the best decisions you can make for your oral health and overall well-being. Here are some strategies to help you kick the habit:
Seek Support: Talk to your healthcare provider, dentist, or a smoking cessation counselor for guidance and support.
Nicotine Replacement Therapy (NRT): Consider using NRT products such as nicotine gum, patches, or lozenges to help manage cravings.
Prescription Medications: Some prescription medications, such as varenicline and bupropion, can assist with smoking cessation. Consult a healthcare professional to see if they are suitable for you.
Behavioral Therapy: Cognitive-behavioral therapy and support groups can provide valuable tools and encouragement to quit smoking.
Set a Quit Date: Choose a specific date to quit smoking and stick to it. Mark it on your calendar as a significant milestone.
Identify Triggers: Recognize the situations or emotions that trigger your smoking habit and find healthier alternatives to cope with them.
Stay Active: Regular physical activity can help reduce nicotine cravings and improve your overall health.
Conclusion
Smoking poses a grave threat to your oral health, increasing the risk of tooth decay, gum disease, oral cancer, and more. Quitting smoking is a challenging but essential step toward preserving your teeth and gums. If you're a smoker, don't wait to take action. Seek support and adopt strategies to quit smoking, and consult with your dentist to address any oral health issues that may have arisen due to smoking. Your smile and overall health will thank you for it.