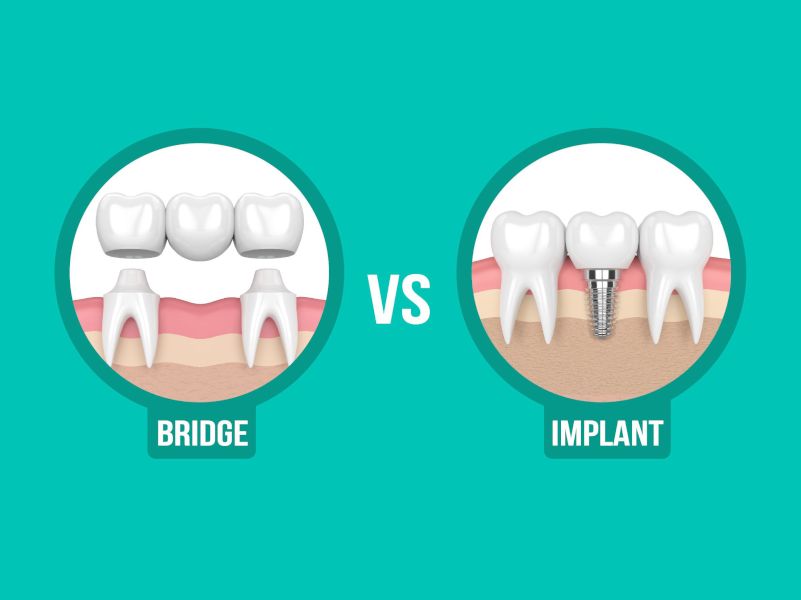 24 Feb 2020
When you're missing a tooth, you have two options for replacement –you can either get a dental bridge or you can rely on dental implants.
With a dental implant, a small titanium fixture is placed in the jawbone at the site of the missing tooth. That fixture bonds with the bone tissue to create an artificial root on top of which an abutment and later an artificial tooth are placed.
The biggest benefit of choosing a dental implant is that it supports jaw health. The bone remains strong and healthy which positively impacts both your oral health and the shape of your face as you age. Dental implants often look better and naturally mimic the feel and function of a real tooth. They also typically last longer with an average lifespan of about 25 years.
Another great advantage of implants is that they can be used to replace more than one missing natural tooth. Implants are easier to maintain. The cleaning process is very simple and flossing between implants is possible. In addition, implants look more natural and facilitate chewing, since the dental bridge may slip. High quality implants can last a lifetime. Dental crowns and bridges will have to be replaced every 7 to 10 years.
A dental bridge is recommended in the case of jaw bone loss or significant damage. The process will be simpler, less painful and less expensive in such instances. The disadvantage of this option is that it can lead to the reposition of bone tissue below the crown which creates instability and a shorter lifespan as a consequence. This process can also weaken the adjacent teeth and make them more vulnerable to decay.
However, Once fixed the bridge is very stable. It will provide for effortless chewing of food and it will feel comfortable, once you get familiar with it.
Knowing these factors will help you make an informed decision about dental implants and bridges. Each option has its advantages that need to be compared for an informed decision to be made.