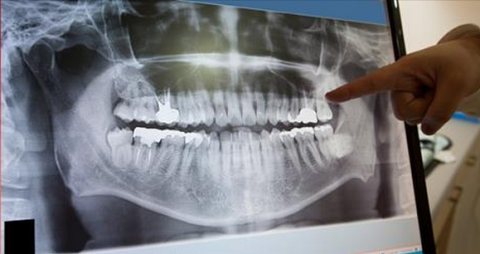 23 Apr 2019
One of the most common things done at a routine dental visit is having x-rays. It's those x-rays that allow the dentist to take a closer look at the overall health of your teeth to detect damage and disease affecting the roots and bones of your mouth, and to look for any possible cavities – things that aren't visible during a routine visual exam. Sounds good, right? But then we cover you in a heavy vest and ask pregnant women to forgo x-rays which prompts lots of questions from our patients about dental x-ray safety. So, let's talk about it!
The worrisome part about dental x-rays is the exposure to radiation. Radiation is a scary term, but the reality is that we are exposed to radiation in our everyday lives, not just during x-rays. Radiation is measured in units called rems. The doses in the medical world are so small, they are measured in millirems, or "mrem" which is just one thousandth of a rem. Below are some examples of amounts of radiation we're exposed to in our everyday lives*:
Airport scan is 0.001 mrem.
Eating a banana is 0.01 mrem.
Natural radiation in the human body is 0.04 mrem.
Average flight from New York to Los Angeles is 4 mrem.
Average chest x-ray is 10 mrem
Average mammogram is 40 mrem.
Annual cosmic radiation living in Denver is 50 mrem.
An average (full body) CT scan is 1000 mrem.